Happy Thank You Jesus Tuesday!
By now, I hope you have all watched our vlog from last week… If not, watch it here and the rest of the post will make more sense to you. 🙂
Craig and I have completely surrendered our fertility to God, and everything that goes with it – and if you've watched the vlog, you know that included our long held onto "baby girl name" of Olivia Florence. We are excited to one day welcome into our home and family a little girl named Jonah Elizabeth! What a blessing total surrender to our Lord is!
So, we all know the story of Jonah in the Bible, right?
God asked him to do something, and Jonah was scared. He ran away and was thrown off a ship, but instead of drowning, he was saved by God and swallowed by a whale. He lived in the belly of the fish for three days (the Sign of Jonah), and was delivered by the Lord – this time deciding to obey His commands!
So, Jonah is associated with a whale…And Jonah is typically a boy's name… and all things whale and little boy are typically blue…
But after we received our revelation from God, and shared it, in faith, with all of you, Craig and I were walking through Target this past weekend and saw these things: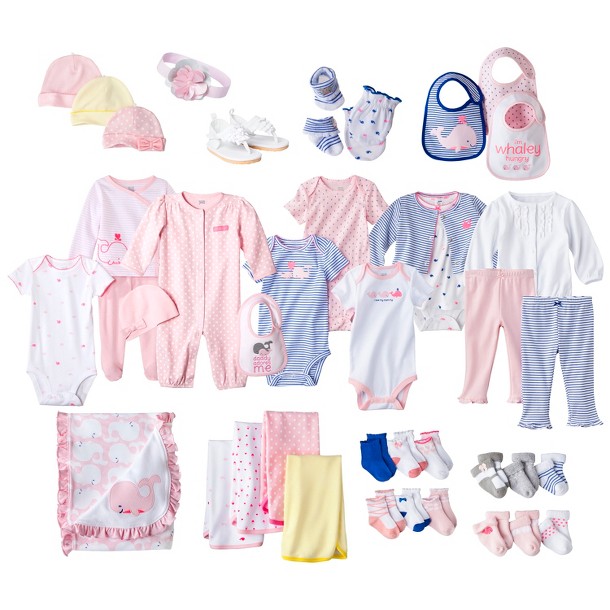 ALL THINGS
PINK AND WHALEY

!!!!!!!

Craig looked at me and said, "This is definitely an affirmation from God! We have to buy Jonah's first blanket in faith!" and so we did:
How awesome!!! We serve such a wonderful God, and if we only ask He will respond. Never think your prayer or request is too small. Have faith in Him.
The point of the story of Jonah is that God rescues His people – and He doesn't require earthly measures to accomplish His rescue! It doesn't matter that doctors say I can't ovulate on my own. It doesn't matter that doctors don't believe I can become pregnant without their assistance. God doesn't rely on science and human knowledge. He created science and He operates in the supernatural.
Psalm 46:10
GOD'S WORD Translation (GW)